Hey gang!
So the mooonth of loooooooove is upon us! And of course we can't forget to mention some of the other awesomness associated with February besides Valentine's Day: Black History Month, LGBT History Month in the UK, Groundhog Day, Presidents Day, the Super Bowl, the Chinese New Year, Flag Days of Canada and Mexico, and possibly the most important - it's National Bird-Feeding Month =) Pretty cool month for sure, and definitely much better than that miserable January and it's cold, depressing, back-to-the-grind feel! Here's some cool February background info for fun: the name is derived from the Latin februum, meaning purification. The name is chosen for this month because of the Februa/Februatio festival, which on the Roman calendar occurred on the 15th day of this month. Roman god Februus personified both the month and also purification. But the month is named for the festival and not for the god. Neat, huh? No, you're bored? Well, the point is just that February sure does pack a lot of stuff into it for being such a short, 'lil thing!

We've got some cool stuff of our own to contribute to February, if we may be so bold, so lets go ahead and dig into some of the fun stuff now...

EKSI EKSO - Brown Shark, Red Lion
2xLP / CD PREORDER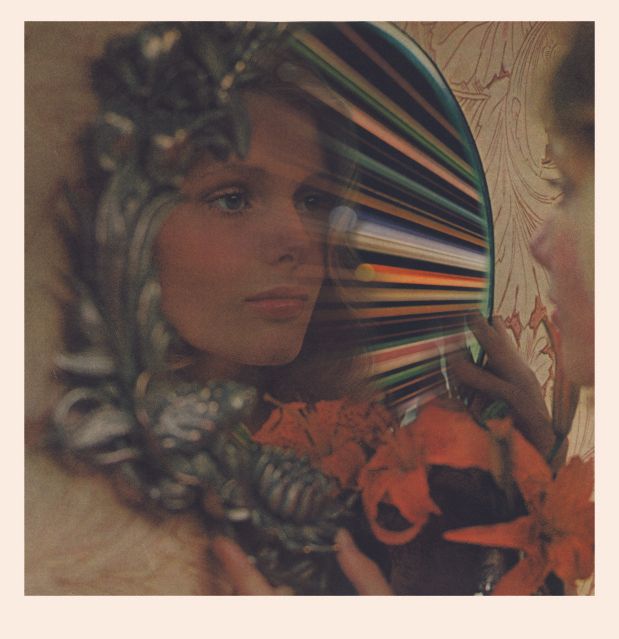 So we're a little behind schedule on this monster, but the wait will be well worth it! The CD and digital will drop officially in stores and online like lightning from the heavens on March 15th. Followed shortly after by the 2xLP vinyl version. So lets talk about the album a bit =)
The CD version is a 28 page book with a CD, to comprehend the sheer awesomeness of what that means, see below...
So that is what is happening on the CD front. We figured with CD sales worldwide approaching an all time low and some record labels not even pressing them anymore, what better time to press the most ambitious and pricey one we've ever released =) But in all seriousness, the scope of this project is massive from beginning to end and we want the packaging of the project to embody the work that went into the music itself. It should blow minds, to put it delicately.
Now, in a perfect world we could have replicated the CD packaging for vinyl as a 28 page book 2xLP edition, but this world is not perfect and the expensive manufacturing costs of vinyl are simply incomparable to the "relatively" inexpensive CD manufacturing costs and it just wouldn't be possible to do. Buuuuut, that being said, we would obviously never short-change the vinyl treatment on one of our beloved releases, there's just something in our record collecting brains that won't allow us to! So here's the sweet deal with the 2xLP version - it's going to be laid out similar to the last Eksi Ekso 2xLP we put out in 2008 "I Am Your Bastard Wings" (which is available HERE). It will have the full color, super thick / heavy / sturdy 18pt stock, 5mm spine, side-loading jackets with two full color printed inner sleeves. We'll have three colors of vinyl to choose from along with package deals for multiple colors as well. It'll spin at 45rpm for maximum fidelity, talkin' audiophile sound quality here babaaaay!!!

Lets give you a little background info on the story of the album (courtesy of Music Remedy dot com, read the entire piece
HERE
):
"Brown Shark, Red Lion is a story that manifested itself out of a conversation Korkidis had with his late grandmother about the disappearance of two family acquaintances - one in the late 1800's, and one later in the mid 1900's. With little more than that, the idea was to create a story around a protagonist who truly was a commercial photographer and amateur astronomer that existed in Eastern Turkey around the mid-late 1800's; fully embracing the first instant photography development system known as collodion or wet plate method. With the exception of some found photographs, the real story of the disappearance was scant at best so a story was devised in which "Lev" (the protagonist) found himself stumbling upon what he thought to be the workings of parasitic angels and demons in his life; slowly sliding from the background to the foreground of his photographs; later entering his own life with a proposition that many men have succumbed to since the advent of our existence: a trade up. Each song on the record follows a linear narrative arc that simultaneously deals with photography (the collodion method and photo trading), astronomy, these earth bound parasitic gods (based loosely on some of the half baked ideas of aliens proposed by Bob Frissell and Erich von Daniken), and a family relative named "Bedia" who sought out the truth of his disappearance nearly a generation later and also later went missing."
Check out a trailer for the album below, just click the "play" button!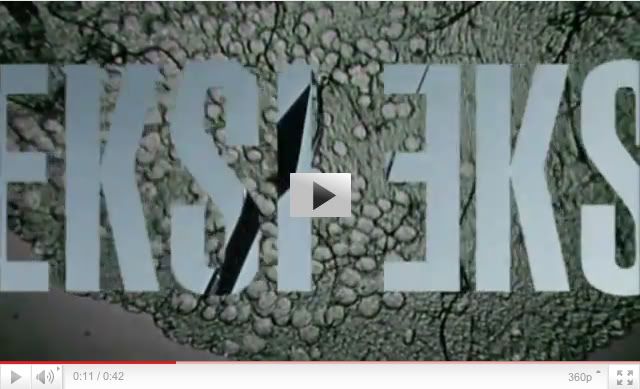 And if you'd like a further preview into what is to come on the album, you can pick up the recent 7" on pink vinyl that we released featuring "Kills of the Flood Tide" and "Bellows To Brass Lens"
HERE
. And you can also check out "Kills of the Flood Tide" on iTunes, eMusic, Amazon, all those... or stream it / buy it on Bandcamp
HERE
. Also, another song called "Carte De Visite!" can be heard over at My Old Kentucky Blog
HERE
! Awwwwww sheeeeeeeeeeeit!!
Oh yeah! The preorder deetz!: Starts Friday, February 25th to the public and Thursday night at 10pm on February 24th for email list peeps. It'll be $21.99 for the 2xLP edition or $11.99 for the 28 page book w/CD edition (as well as several combo/package deals combining formats and / or colors of vinyl), so round up some cash and get ready to get nutty up in this mammajammaaaaaa!!!
Any questions about any of that? If so, you just let us know by replying to this email or hitting us up at info@themylenesheath.com and we will clear it all up for you <3

TEST PRESS ARTWORK CONTEST:
3RD INSTALLMENT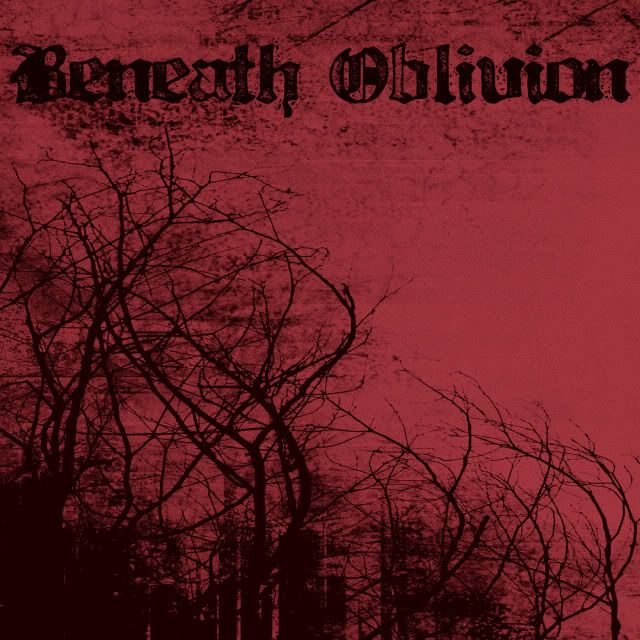 So for the third installment in the test press artwork contest series, we find ourselves coming in at Sheath007, BENEATH OBLIVION's self titled 10" ep of crusty, doomed & sludgy, and quite disgusted, hatred.
It was a cold Cincinnati autumn in 2008 when we first heard the songs that would make up this self titled 10" ep. After hearing them, it seemed somehow colder. This album will always be important to us because it's the first album we ever released that wasn't already released before we came into the picture. Prior to this album we had been re-releasing albums for bands or just pressing previously released albums on vinyl for them. But on this one we heard demo versions of the songs, heard the tracked versions, heard the mixed versions, and finally the mastered versions. It was the first time we heard the idea of a song from one of the bands and then watched it come to life before our very eyes. Doubly cool is that we were huge fans of Beneath Oblivion even back when we lived in Florida during the mid-2000's, so it was neat when we moved to Cincinnati in 2006 and got to meet them and become life long friends. We've had the opportunity to watch the band grow and evolve from a three piece crusty doom band into the revamped and current four piece line-up that just wrote one of the scariest and epic fucking albums that's going to come out this year (release date TBA, but it won't be too long). This 10" captured a moment in the bands evolution that certainly bridges the old sound with the new sound, and all while sounding much different than anything else they've done. The last thing they recorded as a three piece (and the last material featuring Jay on bass and shared vox duties) - it's a gritty, DIY low-fi take on a painful, gut-wrenching existence. Equal parts despairing sorrow and blind, searing rage, the two songs on this album are among the most cathartic in the bands catalog (One Year of Deprivation remains a staple of the bands live set). If you haven't listened to this 10" before, we HIGHLY recommend that you open your mind and embrace the end of everything. You can check out the tunes on their Bandcamp page
HERE
. And you can pick up the 10"
HERE
. Go buy it, listen to it, and feel like you got punched in the stomach by Mike fucking Tyson. Then throw yourself into oncoming traffic... for good measure.
Anyhow, 10 of these test presses were pressed and we'll be holding a similar series of raffles to what we did with the Sheath003 test press contest. So whoever wins the contest will get a test press of the 10" featuring the cover art they created. Then we'll hold a raffle including everyone that submitted artwork for consideration, whoever wins that raffle will also get a test press featuring the contest winning artwork. Deadline for submissions will be on March 1st. After the submission deadline is reached, we will select a few of our personal favorite submissions and post them on the message board in a poll to be voted on. After the voting takes place, we'll take a few that received the most votes and give them to the band to choose the final winner who achieves TOTAL VICTORY!!!
You can read more about this on the message board
HERE
, can't wait to see everybody's submissions, they keep getting better and better with each contest!!!
GIANTS / BEWARE OF SAFETY split 7" UPDATE!
All preorders have been packed up, shipped out, and are on their way to youuuuuu. Thanks again to everyone that preordered the 'lil cutie. Here are some pics to hopefully tide you over until it lands on your doorstep:
Blu-rasberry (limited to 200, numbered #1-200)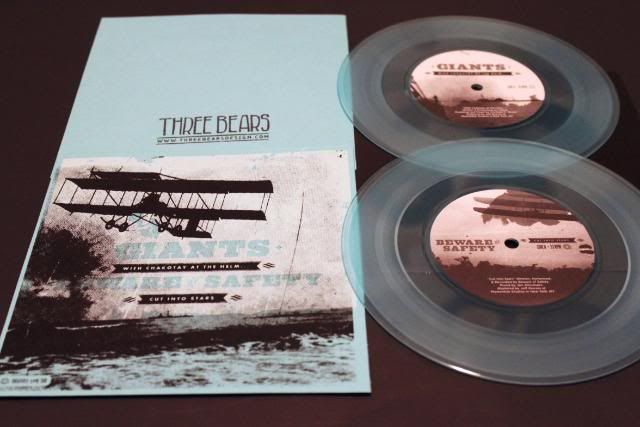 Limeade (limited to 200, numbered #201-400)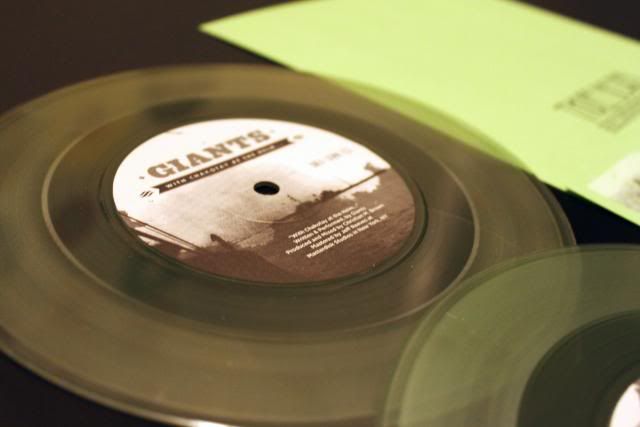 Wild Cherry (limited to 100, numbered #401-500)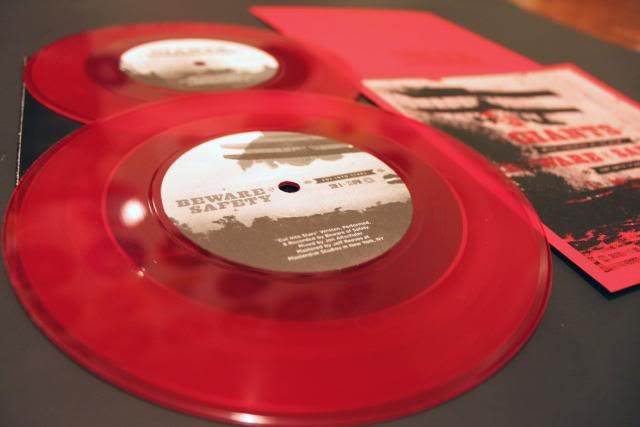 The glow-in-the-dark covers: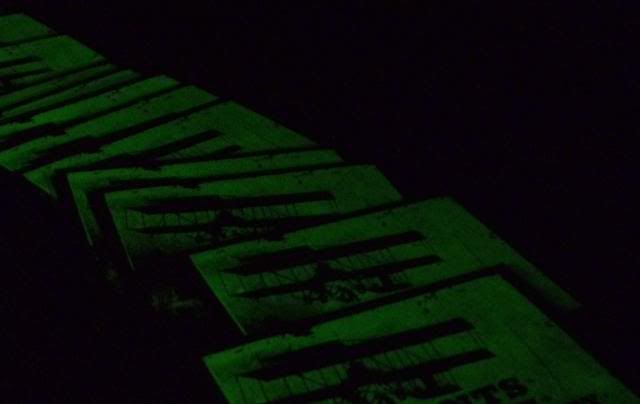 The fun part!: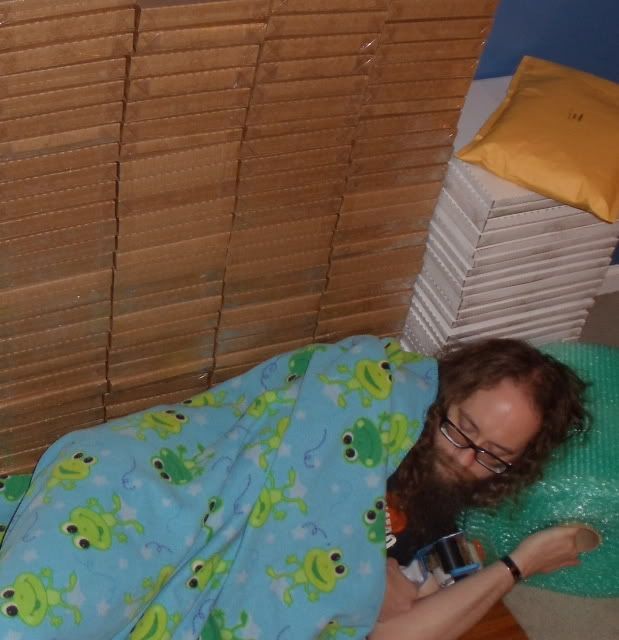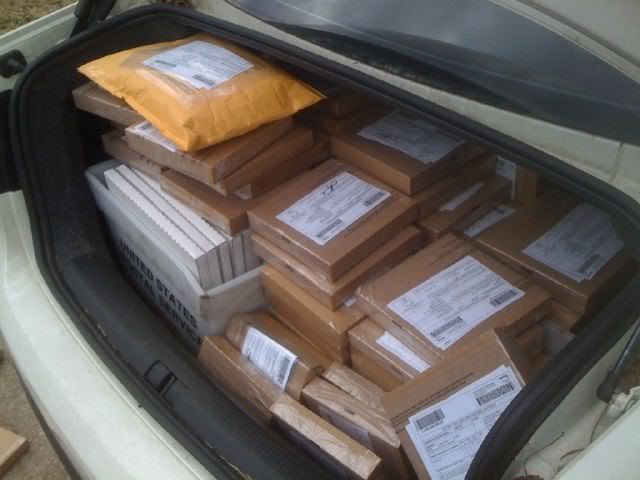 There are some copies still available on blu-rasberry
HERE
and limeade
HERE
, shipping immediately from here on out!
Onward!
ACTORS & ACTRESSES
We Love Our Enemy 12"/CD
In April, we'll be reissuing the debut ep from Kansas City's ACTORS & ACTRESSES, entitled "We Love Our Enemy". This will be Sheath028, if you're a completist =) Originally self released by the band on CD and digitally back in 2005, we've loved the release for years. Originally handed to us in CD-R form by one of the Caspian dudes at SXSW in 2008 to check out, it started a torrid love affair that continues to this day. After listening to, and becoming obsessed with the band, we started talking to Andy about working together. About 16 months later "Arrows" was born. But since "We Love Our Enemy" was the first thing we'd heard from the boys, we really wanted to give it a Sheath-styled release and try to get all of those unannointed by the release to give it a proper listen. So, obviously we felt the release was due for its very own vinyl edition =) We'll also be reissuing the CD version and both formats will have brand new artwork created by N.Shumaker/Northern Lights Industries (Caspian, Gifts From Enola, Beneath Oblivion, Eksi Ekso, Lavinia, etc). Check it out, bitches: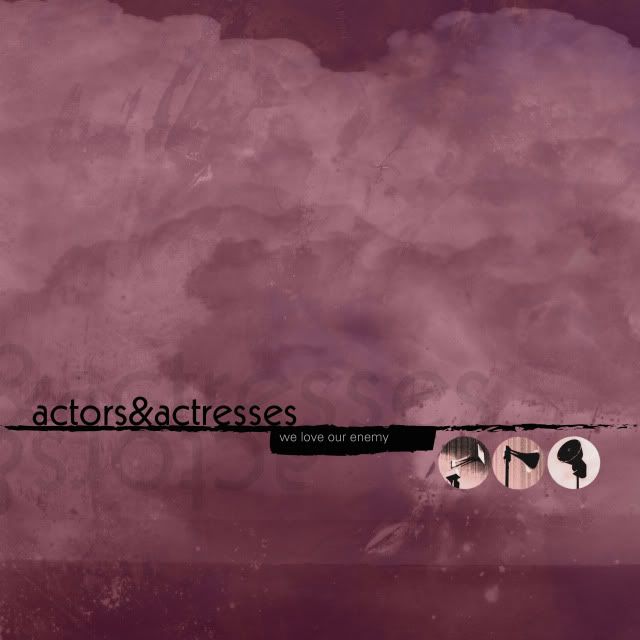 Yeah... dank. Wait, what? You've never heard any of the jams off of this album? Lets rectify that, son. Click HERE to check out "I'll Turn You Blue" from the ep. So glacial you just got freezing cold and goosebumped, didn't you? We know. It's also available on iTunes HERE and of course, all the other DSP's as well if you're dying to hear the rest. You can also check out the bands Bandcamp page HERE to stream it or purchase it. Glorious. Also be on the lookout for another Actors & Actresses related release a little later in the year ;)

THE BORIS REPORT // FEBRUARY 2011
Still around by popular demand? Everyone's favorite... or least favorite... ghastly ghoul guy has another monthly update from beyond. He's planning a trip...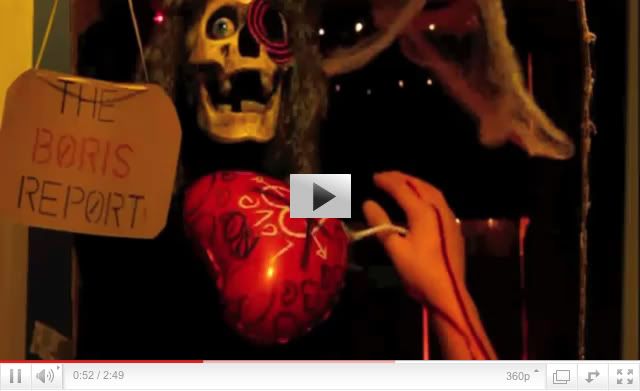 Click the image above to check out what he has to say... or click HEEEEEEERE...

DISTRO UPDATE!
Got some new stuff and restocks in the distro recently from Init Records and Denovali Records as well as incoming stuff from Robotic Empire and Magic Bullet Records. Dank nugs on deck yo. Check out some of the gems:

LES FRAGMENTS DE LA NUIT
Demain, c' tait Hier 12'' black vinyl (limited to 200)
"Les Fragments de la Nuit return with their new album! "Demain, c' tait Hier" perpetuates their timeless musical quest, blending the radiance of the stars with the dark forces that lurk in the Night.The French ensemble have kept faithful to their trademark style, in which pulsing piano chords set the pace for the string-work woven by the cellist and the three violinists, haunted by female choirs that surface on occasion..." PURCHASE / VIEW DETAILS
HER NAME IS CALLA
The Quiet Lamb 2xLP black vinyl (limited to 250)
"this is the version with 180g black vinyl, a thick triple gatefold cover, and a 24 page booklet. limited to 250 pieces! there can be no denying that Her Name Is Calla are one of the most daring, unconventional bands the UK has to offer right now. (Drowned in Sound)..." PURCHASE / VIEW DETAILS

HEIRS
Fowl LP black/yellow swirl (limited to 150)
"Upon returning to Melbourne after 67 shows across Europe and Japan, Heirs commenced work on their second album, Fowl. With the baton of core song-writing being handed from drummer Damian Coward to guitarist, Brent Stegeman, Heirs turned their attention toward their electronic underbelly, honing in on the industrial vapour and blackened ambience thatpermeated their debut, Alchera, distilling the underlying sense of melody with an arresting sense of dread. Fowl displays a deliberate shift towards a broader sonic palette, enabling the band to incorporate disparate in uences and approaches to create a sound that is uniquely their own..." PURCHASE / VIEW DETAILS
BATTLEFIELDS
Entourage Of The Archaic 12"
"Remember the catchphrase "Where's the Beef?" An elderly woman said it on a Wendy's commercial and now it's commonly used when people are looking for substance. And I'm asking this in regards to Battlefields' new EP, Entourage Of The Archaic"... PURCHASE / VIEW DETAILS
SOUVENIR'S YOUNG AMERICA
The Name Of The Snake 12" white vinyl
(limited to 200)

"Similar thing can be said about this as the My Education release below. A band that keeps getting better with every release and it also reminds me of Red Sparowes. Now with more harmonica!LIYL: Red Sparowes, Tulsa Drone, Guano Padano, My Education, Earth, Shora, Across Tundras, Grails" PURCHASE / VIEW DETAILS
And there's tons of other stuff too! Restocks of Jeniferever and Blueneck, that awesome Melt Banana 7" that Init Records put out and plenty of other goodies to get infatuated with =) Hit up the distro to see it all, right HERE <3

RICK'S LIST 'O MYLENE TOUR DATES
If These Trees Could Talk
3/04/2011...Kalamazoo, MI @ The Strutt
3/08/2011...Cleveland, OH @ Beachland Tavern
3/10/2011...Pontiac, MI @ Pike Room at The Crofoot
3/12/2011...Chicago, IL @ Reggie's Rock Club
Beware Of Safety
*no dates scheduled at this time*
Gifts From Enola
2/05/2011...Harrisonburg, VA @ Blue Nile
3/01/2011...Virginia Beach, VA @ Concrete Grow Together
3/02/2011...Richmond, VA @ TBA
3/03/2011...Charlottesville, VA @ TBA
3/04/2011...TBA
3/05/2011...TBA
3/06/2011...Lancaster, PA @ House show
3/07/2011...Pittsburgh, PA @ Garfield Artworks
3/08/2011...Cleveland, OH @ Beechland Tavern
3/09/2011...Fort Wayne, IN @ Pint & Slice
3/10/2011...Pontiac, MI @ The Pike Room
3/11/2011...Detroit, MI @ The Old Miami
3/12/2011...Chicago, IL @ Reggie's Rock Club
3/13/2011...Highland, IN @ TBA
3/14/2011...St Louis, MO @ Cranky Yellow
3/18/2011...Austin, TX @ Valhalla - The Official Mylene Sheath SXSW showcase
3/21/2011...San Antonio, TX @ The Ten Eleven
3/22/2011...Houston, TX @ Minks Backroom
3/23/2011...Baton Rouge, LA @ Northgate Tavern
3/24/2011...New Orleans, LA @ TBA
3/25/2011...TBA
3/26/2011...TBA
3/30/2011...Charlotte, NC @ TBA
3/31/2011...Durham, NC @ Motorco
4/02/2011...Harrisonburg, VA @ Blue Nile at MACrock
Caspian
2/09/2011...Middletown, CT @ Weslyan University
2/10/2011...Waltham, MA @ Brandeis University
2/15/2011...Worcester, MA @ Worcester Polytechnical Institute
2/18/2011...Wenham, MA @ Gordon College
3/04/2011...Baltimore, MD @ Golden West
3/05/2011...Vienna, VA @ Jammin' Java
3/06/2011...Richmond, VA @ Strange Matter
3/09/2011...Charlotte, NC @ Snug Harbor
3/10/2011...Nashville, TN @ The End
3/11/2011...Athens, GA @ Caledonia Lounge
3/12/2011...Orlando, FL @ Will's Pub
3/13/2011...Gainesville, FL @ The Atlantic
3/13/2011...Baton Rouge, LA @ The Spanish Moon
3/18/2011...Austin, TX @Valhalla - The Official Mylene Sheath SXSW showcase
3/20/2011...Austin, TX @ SXSW Festival
4/09/2011...Montreal, CA @ Casa Del Poplo
4/18/2011...Poznan, PO @ Pod Minoga
4/19/2011...Leipzig, DE @ Nato
4/20/2011...Prague, CZ @ TBA (w/ God Is An Astronaut)
4/21/2011...Berlin, DE @ Friction Festival
4/22/2011...Delft, DK @ DeKoonbeurs
4/23/2011...Zottegem, BE @ Dunkk! Festival
You.May.Die.In.The.Desert
2/05/2011...Seattle, WA @ The Black Lodge
3/04/2011...Seattle, WA @ The High Dive 21+
Giants
*no dates scheduled at this time*
Beneath Oblivion
2/13/2011...Newport, KY @ The Southgate House
Eksi Ekso
3/18/2011...Austin, TX @Valhalla - The Official Mylene Sheath SXSW showcase
LVNGS
*no dates scheduled at this time*
Actors & Actresses
*no dates scheduled at this time*
Constants
*no dates scheduled at this time*
Junius
3/18/2011...Austin, TX @ Valhalla - The Official Mylene Sheath SXSW showcase
4/20/2011...Maastricht, NL @ Muziekgieterij
4/21/2011...Berlin, DE @ Friction Fest
4/22/2011...Zottegem, BE @ Dunk Fest
4/23/2011...Karlsruhe, DE @ Dude Fest
Angel Eyes
*no dates scheduled at this time*
Herra Terra
2/07/2011...Providence, RI @ The Met
2/26/2011...Worcester, MA @ Ralph's
3/18/2011...Austin, TX @ Valhalla - The Official Mylene Sheath SXSW showcase
Lavina
2/24/2011...Allston, MA @ Great Scott
3/18/2011...Austin, TX @ Valhalla - The Official Mylene Sheath SXSW showcase
WRAP IT UP!
Bam! That is gonna do it to it, gang members. Hope your February goes perfectly and you have a wonderful and loving V-day with somebody special. Or if you're planning on flying solo on that particular day, just remember it's a just a stupid consumer holiday created by Hallmark to make money... and love is for idiots ;) Oh, and don't forget to mark your calendars for the Eksi Ekso preorder at 10pm on Thursday night, February 24th. Shit's gawn be a total rager, kid! Be stoked or get stuck. We'll see you next month for another bitchin' newsletter and if anyone needs a good chatting between now and then, feel free to email us anytime about anything at info@themylenesheath.com and we'll chat it up <3 Winter is almost over! Winter is almost over! Ok kiddies, much love - over and out!!!
xoxo,
Lindsay & Joel