What's up bitches!
You smell that? Do you? Or is your nose stuffed up because of the freakin' sweet, crisp autumn air? Well, that smell is none other than the holidays - just around the corner!!! Wood fires, lights, pumpkin pies, pine needles, turkey / tofurkey, food, food, football, food, food, cookies, food, smiles, hugs, high fives, holy shit! Kicking off with Thanksgiving in a couple weeks and extending for several more weeks of cozy, cuddly, happy days and evenings of decorating, celebrating, hanging with people you don't hate! Or maybe you do hate them, but man, you sure hate them a little less in November and December =)
I know we seem to touch on this in each newsletter recently, but holy crap - how is 2010 almost over? It seems like just yesterday that we were typing the November 2009 newsletter out, Caspian's "Tertia" had recently dropped on the world like an atom bomb and Junius' "The Martyrdom of a Catastrophist" was about to hit the streets. It's really hard to believe that was a year ago. Time. Is. Weird. OK, we'll stop going on and on about it now, but seriously, WTF????
Okey doke, moving on - lots of stuff is happening so we should probably get right into it - ready... set... GOOOOOOO!!
EKSI EKSO - Kills of the Flood Tide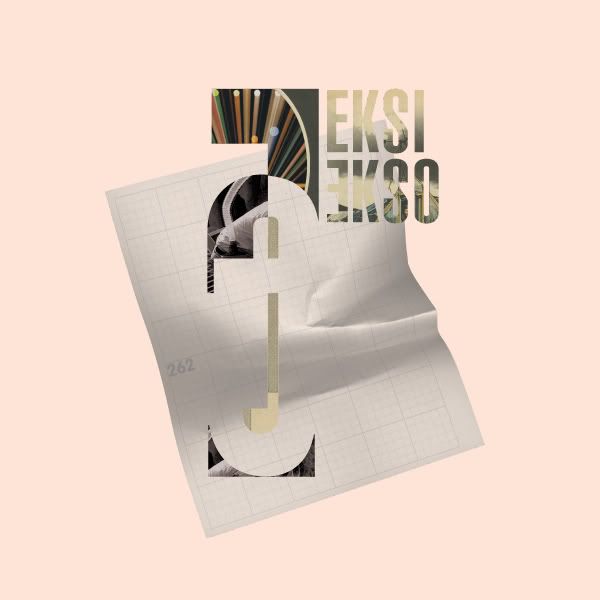 As discussed in the last couple newsletters, we'll be releasing a new single for EKSI EKSO next Tuesday, 11.16.10. The song is entitled "Kills of the Flood Tide" and it will be available on iTunes, eMusic, Amazon MP3, and every other DSP you can possibly, humanly use to purchase your digital digs. In addition to the single dropping, we're releasing a special and super limited vinyl 7" version which will feature a B-side jam entitled "Bellows To Brass Lens". This 7" is in production now and we'll start taking preorders for it this Thursday night at 10pm for you newsletter peeps, and announce it publicly on Friday. It is limited to just 250 hand numbered copies, with 50 of those on black vinyl and 200 on pink. Can you dig it? I reckon you can!! So a quick recap... new digital single "Kills of the Flood Tide" available on 11.16.10, big preorder this Friday 11.12.10 for a 7" vinyl version of the track which includes the B-side track "Bellows To Brass Lens", and a brand new, massive full length entitled "Brown Shark, Red Lion" in February 2011. Get ya mind right and get in on thiiiiis!! Also, check out the band on Facebook HERE for updates and infooooooo!!!
LAVINIA - There Is Light Between Us

The preorder for LAVINIA's debut ep, "There Is Light Between Us" is still going on! The album comes out on CD format in record stores worldwide on Tuesday, 11.16.10 as well as online digitally via iTunes, eMusic, Amazon MP3 and all the other digital joints you can scoop the jams from. The vinyl format is rolling along nicely with the test presses having been approved and printwork proofs approved. We should still be on schedule for an early December mailout on all preorders =) As far as what is happening in quantities, the silver vinyl (limited to 100) is getting looooow. There's only a few copies left, so if you've been on the fence for some straaaaaange reason, get off it now and get to orderin' HERE. If you still haven't listened to what the band is caaaaaapable of, you can bump the goods on their myspace page HERE, also hit them up on Facebook HERE and say heyoooo!
THE BORIS REPORT
This past Halloween we were visited by a ghastly creature from the other side of reality named Boris. In return for sparing our lives he demanded that we make him an equal partner in The Mylene Sheath. We had no choice but to oblige. However, after a few days of working together, we figured out he had nothing to really offer since his skull just kind of floats around and his lone arm is severed. He can't pack records, he can't type on a keyboard, and he is really scary. But what he can do is talk... alot. So he'll be reporting to you guys at least once a month, updating you on what is going on around here... kind of like a video newsletter. BUT... do not look him directly in the eye, lest ye be cast under his hideous spell and cast away into the abyss FOREVEEEEER!!
Also be sure to check out some of the other videos that are new on our Youtube page. Just click the video above to check it out.... if you daaaaaaaare!!!
TEST PRESS ARTWORK CONTEST VOL. 2!
The 2nd installment of the test press artwork contest series is about to get underway on our message board! For those of you keeping score at home, this one will be for Sheath003, the monstrous GIFTS FROM ENOLA - Loyal Eyes Betrayed The Mind 2xLP! So get busy Picasso, because we have ten test presses that need jackets and your brain may hold the key! Sooooo we thought it would be neat to have another contest in which registered members of the message board submit artwork ideas for the jackets, then we'll narrow down it down to a few of our favorites and create a poll on the board here where people can vote on which cover art we go with =) More fun, FOREVER! So participate and have fun! The winner will receive a test press with the artwork they created screen printed on the jacket. And since we'll have ten, we'll hold a raffle for another copy in which every registered member of the message board that submits art will be entered in a drawing to receive one. The way to be entered in the raffle is simply by already being registered to the message board or signing up to the message board and submitting artwork idea to the contest. Sweet deal =) Check out all the crucial details HERE!
DISTRO UPDATE

Got a pretty nice haul this month from two of our favorite labels in the world, Robotic Empire and Magic Bullet. New arrival gems from these pros include smash hits by a gang of gamechangers. Here are just a handful of the essentials:
GHASTLY CITY SLEEP - Moondrifts 2xLP
HOLY FUCKBALLS. Do you like awesome, AWESOME music that is special and unique and different and amazing? BUY THIS RECORD!
"This one is such a doozy... Took almost a year from recording to the point where it went into production on the plant end. It wasn't for procrastination or laziness though. It was simply THAT intense of a process..."
PURCHASE / VIEW DETAILS
THIS WILL DESTROY YOU - Moving On The Edges Of Things 12"
"THIS WILL DESTROY YOU have chosen August 10, 2010 to make a clean, violent break from the public perception that has unintentionally emerged around this instrumental Texan band over the past 4 years. Motivated entirely by hatred, disgust, and pure disdain for those that have claimed the band's previous work to embarrassingly trendy musical genres and those who try to work it into religious ideologies, this 12" is a powerful statement and preview of what is to come from the band..."
PURCHASE / VIEW DETAILS
THIS WILL DESTROY YOU - Young Mountain LP
"The pride of San Marcos, Texas, THIS WILL DESTROY YOU are an instrumental quartet who play a cascading brand of cinematic rock music. Young Mountain is their formerly self-released masterstroke, a 6-song, 36 minute composition of aural brilliance that has already garnered an obsessed fanbase both in their home state and in underground circles worldwide..."
PURCHASE / VIEW DETAILS
THOU - Baton Rouge, You Have Much To Answer For 12"
"Easily one of the most exciting modern sludge/doom bands going, THOU calls Louisiana home and have channeled lifetimes of depression & decay as the inspiration for "Baton Rouge, You Have Much To Answer For." Scathing commentary laid down by hateful blackened vocals is merged with some of the most crushing riffs conceived in ages. Incredibly deep tones and bludgeoning drumming are combined with a surprising amount of melody and years of honed songcraft..."
PURCHASE / VIEW DETAILS
CAPSULE - Self-Titled (Tape + Demo + Tour + More) 12"
"Killer early-material collection from Miami's CAPSULE, bringing together all their pre-"Blue" released recordings onto one crucial platter. Blistering turbo-ADD madness spanning 15 tracks total, 10 of which are seeing their first time on vinyl and all previously available only in super limited quantities. This LP collects their original self-released demo and "Voluminant" EP (both later released on cassette) along with two cuts from the split with DEVICES and a rare tour-only EP..."
PURCHASE / VIEW DETAILS
YOUNG WIDOWS - Live Radio Performance April 6, 2009 12"
"During the height of touring on their "Old Wounds" album, YOUNG WIDOWS was invited to play an on-air show at the WMUC radio station in Maryland. A handful of people were present to witness them deliver the goods, and the college kids at the 88.1 FM station recorded the live transmission. Robotic Empire (traveling with the band) promptly swooped in, stole the lone copy of the session, had it professionally mastered, and this is the end result..."
PURCHASE / VIEW DETAILS
Loads of other much needed Robo restocks including Isis, Helms Alee, and Gods & Queens - to name a few. The rest of this months restocks and new arrivals can be viewed in the DISTRO section of the webstore, right HEEEEEEERE!
RICKS LIST 'O MYLENE TOUR DATES


If These Trees Could Talk
*no dates scheduled at this time*
Beware Of Safety
*no dates scheduled at this time*
Gifts From Enola
*no dates scheduled at this time*
Caspian
***European Tour***
11/3/2010...Limerick, IR @ Dolan's
11/4/2010...Galway, IE @ Roisin Dubh
11/5/2010...Waterford, IE @ The Forum
11/6/2010...Dublin, IE @ The Academy
11/7/2010...Belfast, IE @ The Limelight
11/8/2010...Manchester, UK @ Ruby Lounge
11/9/2010...Glasgow, UK @ King Tuts
11/10/2010...Leeds, UK @ Cockpit 2
11/11/2010...Birmingham, UK @ 02 Academy
11/12/2010...London, UK @ 02 Academy
11/13/2010...Norwich, UK @ Arts Centre
11/22/2010...Osnabruck, DE @ Klein Freiheit
11/24/2010...Duisburg, DE @ Steinbruch
12/6/2010...Vienna, AT @ B72
12/7/2010...Munich, DE @ Kranhalle
12/8/2010...Berlin, DE @ Magnet Club
12/9/2010...N¸rnberg, DE @ Musickverein
12/10/2010...Dresden, DE @ Beatpol
12/11/2010...Frankfurt, DE @ Elfer
You.May.Die.In.The.Desert
*no dates scheduled at this time*
Giants
*no dates scheduled at this time*
Beneath Oblivion
*no dates scheduled at this time*
Eksi Ekso
*no dates scheduled at this time*
Lvngs
*no dates scheduled at this time*
Actors & Actresses
11/13/2010...Kansas City, MO @ The Record Bar
Constants
***European Tour W/ Irepress***
11/08/2010...Cologne, DE @ Underground
11/09/2010...Hamburg, DE @ Astra Stube
11/10/2010...Karlsruhe, DE @ Jubez
11/11/2010...Oberhausen, DE @ Drucklufthaus
11/12/2010...TBA
11/13/2010...Bilbao, ES @ Santana
11/14/2010...Spain @ TBA
11/15/2010...Madrid, ES @ Wurlitzer Ballroom
11/16/2010...Don Benito, ES @ The Rincon Pio Sound
11/17/2010...St. Feliu De Condines, ES @ Incivic Zone
11/18/2010...France @ TBA
11/19/2010...Neumarkt, IT @ Point
11/20/2010...Bulle, CZ @ Ebullition
11/21/2010...Dornbirn, AT @ Schlachtaus
11/22/2010...Bolagna, IT @ Xm24
11/23/2010...Lucca, IT @ Blu
11/26/2010...Munchen, DE @ Sunny Red
11/27/2010...Siemianowice Slaskie, PL @ Centrum Kultury
11/28/2010...Chorzow, PL @ MDL Batory
11/29/2010...Tarnowskie Gory, PL @ TCK
11/30/2010...Poznan, PL @ Pod Minoga
12/01/2010...Nurnberg, DE @ Muz
12/02/2010...Berlin, DE @ Comet
12/03/2010...Chemnitz, DE @ AJZ Talschock
12/04/2010...Dresden, DE @ AZ Conni
12/05/2010...Prague, CZ @ TBA
12/06/2010...Vienna AT @ B72
12/07/2010...Budapest, HU @ Tundergyar
12/08/2010...Luj, RO @ Irish & Music Pub
12/09/2010...Timisoara, RO @ Daos Club
12/10/2010...Romania @ TBA
12/11/2010...Constanta, RO @ TBA
12/12/2010...Bukarest, RO @ Club Control
12/16/2010...Belgrade, SP @ KC Grad
12/17/2010...Novo Mesto, SI @ Sokolski Dom
12/18/2010...Maribor, SI @ Channel Zero
Junius
10/29/2010...Gainsville, FL @ THE FEST
11/5/2010... Austin, TX @ FUN FUN FUN Fest w / Devo + Mastodon + Bad Religion + The Appleseed Cast + High On Fire + Snapcase + more
Angel Eyes
*no dates scheduled at this time*
Herra Terra
11/12/2010...Fall River, MA @ P.A.L.
11/21/2010...Worcester, MA @ The Raven
12/03/2010...Shrewsbury, MA @ Shrewsbury High School Auditorium
12/09/2010...Cambridge, MA @ Middle East Upstairs
12/10/2010...Providence, RI @ Colloseum
Lavina
*no dates scheduled at this time*
THE END

Well, that's it guys! A compact 'lil fella for this month. Allow us to sum it up real quick again... Thursday night, 10pm: EKSI EKSO - Kills Of The Flood Tide 7" preorder launches (250 handnumbered copies, only 50 on black vinyl, 200 on pink). Tuesday, November 16th: LAVINIA - There Is Light Between Us comes out on CD nationwide and online via all DSP's and EKSI EKSO - Kills Of The Flood Tide single available online via all DSP's. Getting Low on silver vinyl for the LAVINIA 12". Our Youtube page has awesome videos to watch. There's a new test press artwork contest on our message board, this one's for GIFTS FROM ENOLA - Loyal Eyes Betrayed The Mind 2xLP. Distro items galore - restocks and new arrivals from Robotic Empire and Magic Bullet (with more incoming goods from Denovali imminent). CASPIAN and CONSTANTS are overseas in Europe layin' it doooown, be sure to head out and check them out!! Whew... that's it =) Have a wonderful Thanksgiving everyone and we'll see you in early December with another newsletter (and this Thursday night at 10pm for the Eksi Ekso 7" preorder launch)! Talk soon guys, please get in touch with any questions, comments, or concerns at info@themylenesheath.com - ADIOS!!
xoxo,
Lindsay & Joel