Hey gang!
Haaaaaaaappy Hoooooooolidays!!! Well, unbelievably, it's time to wrap up another year of awesomeness =) Hopefully everyone is planning on having the best end of any year that has ever existed? Yup? Good. We've got the stockings hung, the tree is up, the lights are lit, and Santa will be here shortly! Hopefully your xmas travels and reunions are among the most memorable of your lives. Maybe this is the year where a new tradition starts in your home. Those are the best =)
Well, we know how busy everyone is this time of year, so we're not going to hold you guys up with our gushing about how much we love the holiday season. You've got last minute gifts to buy, last second plans to arrange, and amazing visits with loved ones to get to! And speaking of those last minute gift ideas....

THE MYLENE HOLIDAY GIFT CERTIFICATES!!
Can't figure out what to buy that awesome person you care about so much? Do they love music? Well, chances are they love The Mylene Sheath then, duh! Purchase a gift certificate, which is redeemable in our webstore in increments of $25, $50, or $100! Simply purchase one of the increments through Paypal via our website RIGHT HERE and have Paypal automatically deliver it via email to the cool cat you're shopping for or else simply print it out and hand deliver it to them yourself (or stick it their stocking!). You will choose which delivery method you prefer during the transaction =) Then the next time they decide to go shopping in our webstore, they just have to select "Paypal" as their payment option. Then they simply enter their redeemable code when they're checking out through Paypal and BOOOOOM, they get the ultimate xmas gift(s) on your dime!! Pretty sweet? Yup, holidays yo!! Any questions about this, just email us at orders@themylenesheath.com and we'll be glad to take care of you....again, just head over HERE and do ya holidang thaaaaang!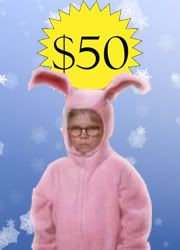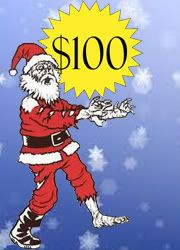 THE MYLENE CRAFTY HOLIDAY PACKAGE DEAL!
We've also got this freakin' sweet and cute little comfy package deal here that includes a Mylene shirt, both colors of the Mylene slipmat, a handmade Mylene Santa hat, and handmade Mylene gloves... holy Mylene!!! Check out the picture: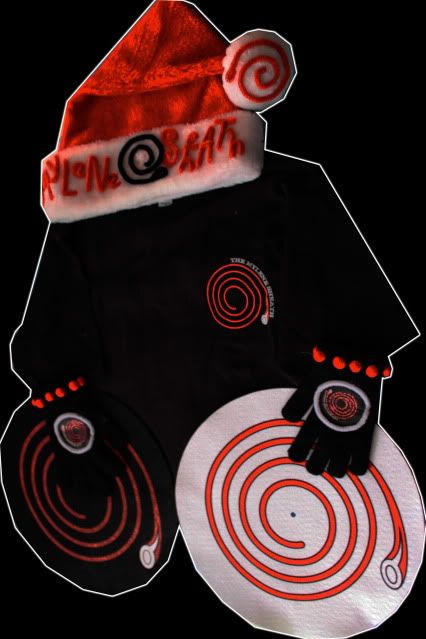 You can purchase this limited package deal, handmade with love, RIGHT HERE! Supplies are limited due to the custom, made-to-order nature of some of the items, so order quickly if you want to rock this Xmas in Sheath-like fashion!

LAVINIA & EKSI EKSO PREORDER UPDATE!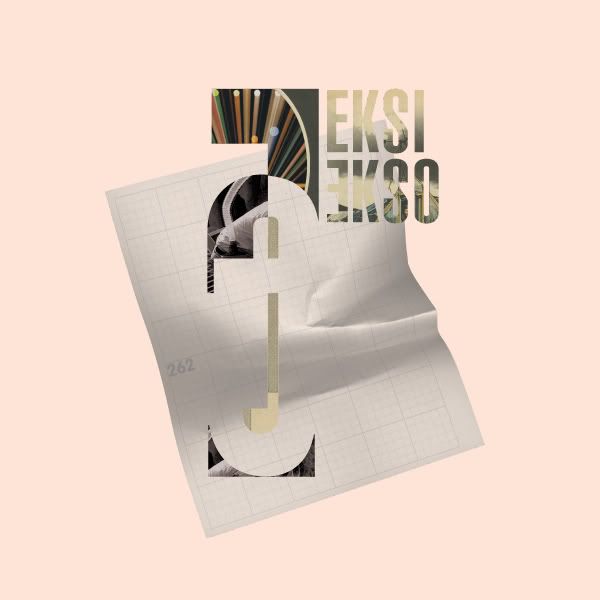 Just a quick update on these two preorders. The records are currently in transit to us from the pressing plant, crossing the frozen tundra of western America as we type =) These should arrive in our warehouse here on the east coast by the weeks end and then of course, we hope to have them all packed up and mailed out by the end of next week =) Be expecting an email from us including your tracking information next week sometime if you ordered one (or both) of these lovelies =) If you slept on them, please do yourself a favor and order them immediately RIGHT HERE. You can thank us later =) No, firreeeeeeal!

GIANTS / BEWARE OF SAFETY SPLIT 7"
So everything is coming together for the split 7" =) The artwork below is going to be used for the digital release on all the DSP's in internet world. The 7" vinyl version will have three different variants of the same cover art on different colors of paper, once again hand screened by Charlie Wagers for Three Bears Design. The vinyl colors will coincide with the color of paper the artwork is printed on and they will all be hand numbered out of 500 total pressed.
(Sheath016) GIANTS / BEWARE OF SAFETY split 7"
SIDE A: GIANTS - With Chakotay At The Helm...
SIDE B: BEWARE OF SAFETY - Cut Into Stars
We'll begin taking preorders for this 7" on December 31st, the last day of the year. And as usual, we'll send out an email the night before, on December 30th, at 10pm to give everyone on the email list a heads up before the general public is notified =) Diggitttttt!!

(SHEATH003)GIFTS FROM ENOLA - Loyal Eyes Betrayed The Mind 2xLP

TEST PRESS ARTWORK CONTEST UPDAAAAAATE!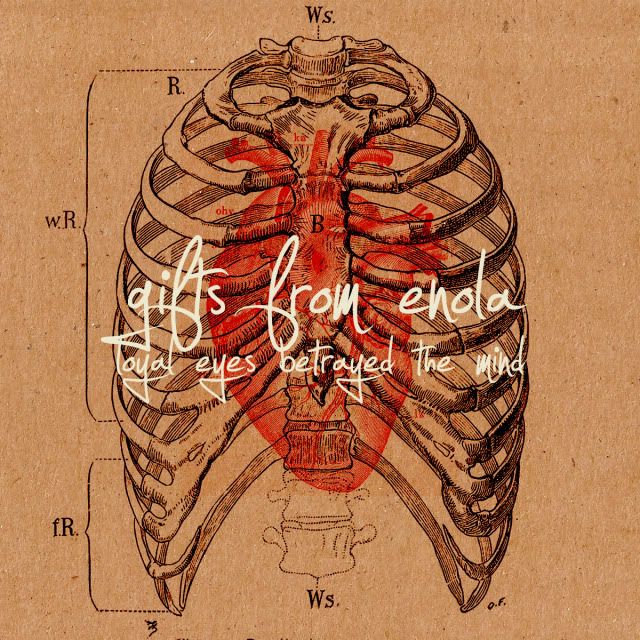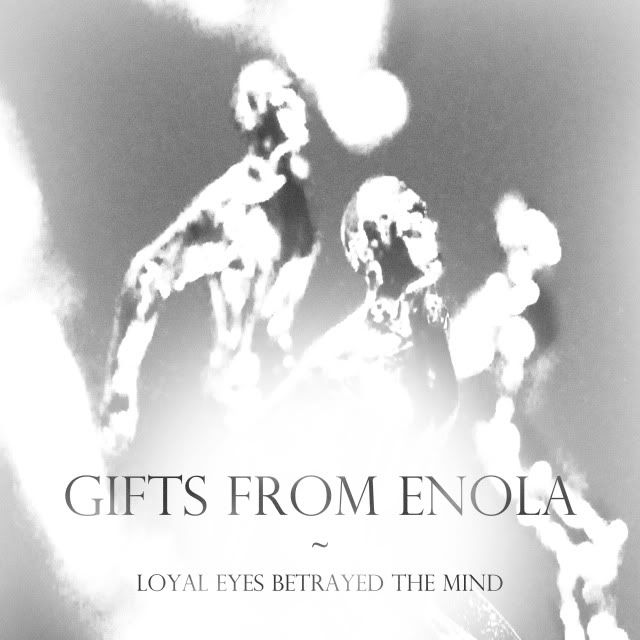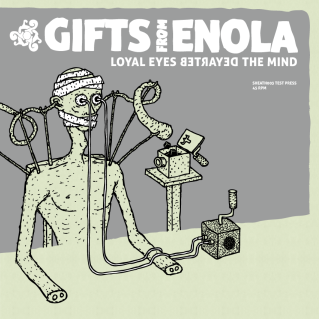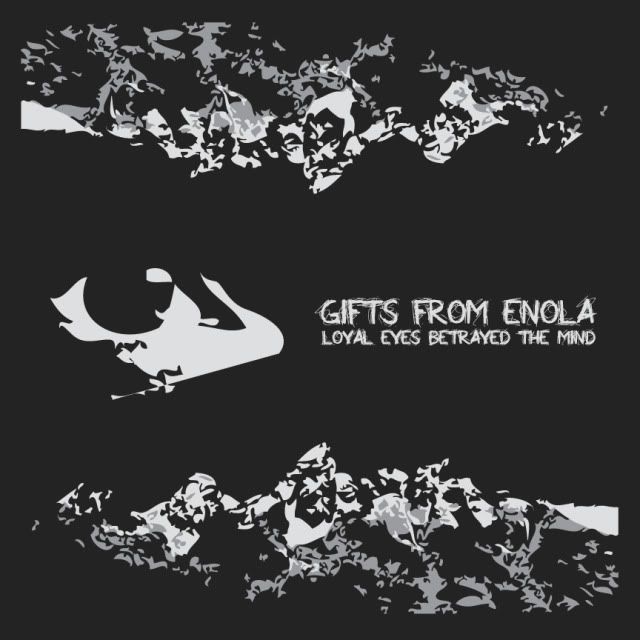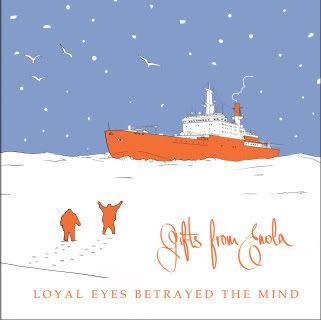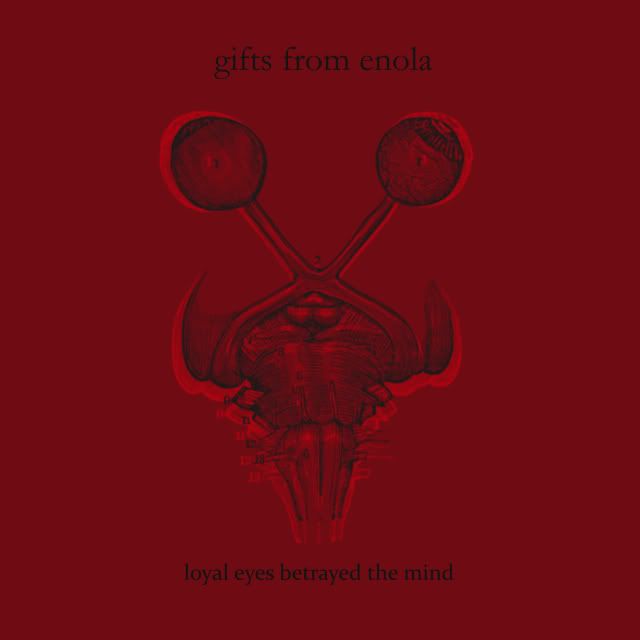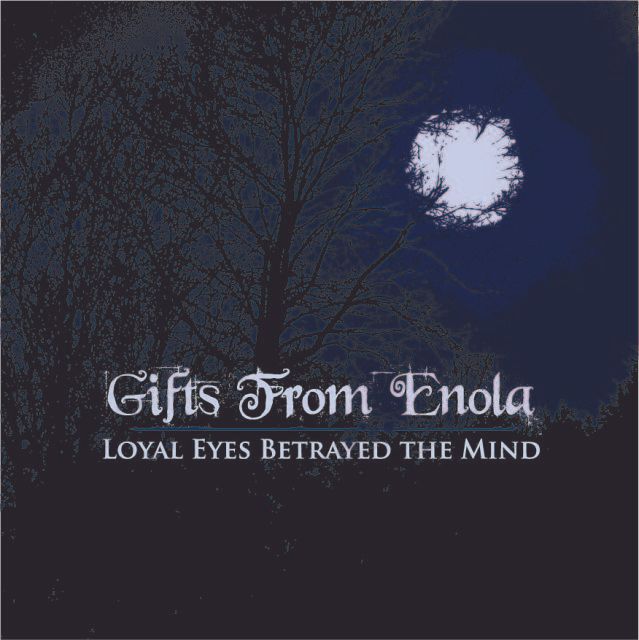 Well, first of all, we'd like to thank everyone for the overwhelming response to this contest! We received countless entries for this most recent installment in the Sheath test press artwork contest series. We've spent the last few days narrowing the final entries down to a scant ten finalists. You can head over HERE to vote for the finalist that you think we should use! We'll leave voting open until January 1st, 2011! If your design did not make it into the finals, please know that it was very hard to narrow it down to even ten and everything was very close!! So yeah, head over HERE and vote for a winner!
THE MYLENE PACK-OFF VIDEO SERIES!
So when you have thousands of records pressed, it's inevitable that there's going to be a small percentage of them that end up with manufacturing glitches, packaging defects, damage from transit, or any other thing you can think of. We don't sell these to people for obvious reasons. So we have a little shelf of these that just sit there collecting dust, unsellable. So we've decided to start putting our record packing skills to the test and shooting some videos of us packing up these records and then conducting a series of experimental tests on them to see whether our packing skills are up to snuff. So far we have run over them with a car (successful!) and taken a swing at them with golf clubs (not so, um... successful?). You can check these videos out on our YouTube Channel. But we also thought it would be fun to take suggestions from you guys for other ways we can test our pack jobs. So if you get bored, please do some brainstorming and help us figure out some fun and creative ways to test our talent in this ever more important mailorder trade =) Email all of your destructive ideas to casey@themylenesheath.com and we'll get busy crackin' on 'em! Whoever thinks of the ideas we use will have the results of the experiment mailed to them, along with a freebie from our webstore that you'd actually want =) FUUUUUUUUUUUUUUUUUN! FUN! FUN! FUN! FUN!

THE DECEMBER BORIS REPORT!
Check out the monthly news update from our in-house soulless spectre, Boris. As he continues to haunt The Mylene HQ, he gathers more and more privileged information that he wants to share with everyone... with or without our own approval...
Remember, do NOT look him straight in the eye... I mean, nothing bad or scary will happen... it's just really awkward, because he's... weird.

RICK'S LIST O' MYLENE TOUR DATES!

If These Trees Could Talk
*no dates scheduled at this time*
Beware Of Safety
*no dates scheduled at this time*
Gifts From Enola
2/05/2011...Harrisonburg, VA @ Blue Nile
Caspian
***European Tour***
12/7/2010...Munich, DE @ Kranhalle
12/8/2010...Berlin, DE @ Magnet Club
12/9/2010...N¸rnberg, DE @ Musickverein
12/10/2010...Dresden, DE @ Beatpol
12/11/2010...Frankfurt, DE @ Elfer
12/30/2010...Cambridge, MA @ Middle East Downstairs w/Constants, Irepress, Moving Mountains
You.May.Die.In.The.Desert
*no dates scheduled at this time*
Giants
*no dates scheduled at this time*
Beneath Oblivion
*no dates scheduled at this time*
Eksi Ekso
01/05/11...Boston, MA @ Middle East w/St.Claire, The Sour Notes, and TonyBear
Lvngs
*no dates scheduled at this time*
Actors & Actresses
12/09/2010...Kansas City, MO @ The Riot Room
12/10/2010...Chicago, IL @ The Darkroom
12/11/2010...Ft. Wayne, IN @ Pint & Slice and Dash-in
Constants
***European Tour W/ Irepress***
12/07/2010...Budapest, HU @ Tundergyar
12/08/2010...Luj, RO @ Irish & Music Pub
12/09/2010...Timisoara, RO @ Daos Club
12/10/2010...Romania @ TBA
12/11/2010...Constanta, RO @ TBA
12/12/2010...Bukarest, RO @ Club Control
12/13/2010...TBA
12/14/2010...Skopje, MK @ Club Castro
12/15/2010...TBA
12/16/2010...Belgrade, SP @ KC Grad
12/17/2010...Novo Mesto, SI @ Sokolski Dom
12/18/2010...Maribor, SI @ Channel Zero
12/30/2010...Cambridge, MA @ Middle East Downstairs w/Caspian, Irepress, Moving Mountains
Junius
*no dates scheduled at this time*
Angel Eyes
*no dates scheduled at this time*
Herra Terra
12/09/2010...Cambridge, MA @ The Middle East Upstairs [18+]
12/10/2010...Providence, RI @ Colosseum
Lavina
*no dates scheduled at this time*
WRAP-UP!
Well, that's going to do it for the final newsletter of 2010! We wish everyone happy holidays and safe travels as you all zip around the globe to and fro to embrace your loved ones and celebrate your time together <3 Remember that a lot of people are forced to spend the holidays alone, if you don't have to - be grateful. If you do have to and need someone to talk to or are just bored and want to chat, please drop us a line at info@themylenesheath.com because we love personal notes and will gladly strike up a chatty chat with you <3 Either way, make this holidays season one that you'll never forget and of course, get ready for a wicked awesome 2011!!! HAPPY, HAPPY, HAPPY, HAPPY FUUUUH-REEEEAKIN' HOLIDAYS EVERYONE <33333333
xoxo,
Lindsay & Joel